| | |
| --- | --- |
| | |
| Screen Capture HQ | |
| Win32 and 64, English | |
This plugin captures parts of a drawing, or the entire drawing and saves the results to high precision image files or clipboard, by a simple process. The text and linework quality is defined by the user in much higher quality than when just capturing the screen.
General Usage Instructions
| Screenshots | Commands | Installation/Uninstallation
Additional Information | Known Issues | Contact | Version History.
This plug-in provides a simple, dialog box interface for capturing images of AutoCAD drawings using the 'Window' or 'Display" option. It optionally allows you to control the background color of the output image as well as the foreground to color, black or grayscale. It supports any visual style applied in the current viewport. Large areas of drawings can be converted to images without loss of their quality.
Once loaded, the SCREEN CAPTURE HQ plug-in opens a dialog box with the following options:
Image type:
Supported file types of the output image: PNG, JPG and BMP.
Quality:

Controls the quality (and size) of the output image file. Available qualities: 0.5, 1.5, 3.0, 7.0 and 12.3 Megapixels. The corresponding image resolutions are: 850x595, 1480x1036, 2100x1470, 3150x2205 and 4200x2940 pixels.
Foreground color:


Controls the output color of the drawing entities, that is anything other than the drawing background.
"Color": each entity retains its color.
"Greyscale": converts the entire image to grayscale.
"Monochrome": converts the entire image to black/white.
Background color:
Controls the output color of the drawing background. Options are "White" and "Black".
Specify window / Capture display:

Allows you to specify a window indicating the area of the drawing to be converted to image, or to capture the contents of the active viewport.
Create image:
Clicking
this button with the "Specify window" option selected, will allow specification of window. The application will prompt for folder and file name specification.
Close:
Closes the application dialog box.
View images:
You can display 

"View images"

 option by clicking the More Options button. 

 
The application includes a simple image file viewer whereby you can view created images but also rename or delete them. By using the 'magnifier' (+) button, you can view the images in bigger size.
Copy to Clipboard:

Use this button to copy the selected image to clipboard. Later on you can paste it into another document or email.

Basic dialog box.

Extended dialog box with more options.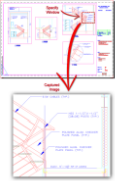 The output image can be always clear regardless of the size of the specified window.

The above green windows of different size, give output image files of the same quality.
Video
Ribbon/Toolbar Icon
Command

Line

Command Description

E

art_ScreenCaptureHQ

Opens application dialog box in order to capture screen into a HQ image file.
The installer that ran when you downloaded this plug-in from Autodesk Exchange has already installed the plug-in. You may need to restart Autodesk Product to activate the plug-in. To uninstall this plug-in, click Control Panel > Programs > Programs and Features (Windows 7/8/8.1) or Control Panel > Add or Remove Programs (Windows XP), and uninstall as you would any other application from your system.
SCREEN CAPTURE HQ uses the AutoCAD "plot to file" procedure in order to create the image file. Dependent on the selected quality in megapixels, the output image may be less or more accurate. More accuracy produces larger image files.
The output image resolutions in pixels are: 0.5 MP (850x595), 1.5 MP (1480x1036), 3.0 MP (2100x1470), 7.0 MP (3150x2205) and 12.3 MP (4200x2940). Depending on the specified window ratio, the application

orientate
s the output image in portrait/landscape automatically.

This product has been tested for both Windows 32bit and 64bit systems.
Entities in color 7 (white).
Depending of the background color selected, entities in color 7, may

appear

as white or black respectively, in the output image file.
Previous plot.
After the use of SCREEN CAPTURE HQ, the <Previous Plot> option of AutoCAD PLOT command does not selects the real previous plotter used. Instead it selects something like "EART-ScreenCaptureHQ...", depending of selected file type. The desired plotter name can be selected manually.
L

ayers that have plotting turned off.



Application does not capture layers that have plotting turned off. Plotting can be turned on manually using the "plot" option of the "Layer Properties Manager".
Company Name: Art ltd
Company URL: www.art-cad.gr/applications.htm
Support Contact: app.support@art-cad.gr
Author/Company Information

Art ltd is a small business offering integrated applications in the Greek market as well as customized workflow utilities worldwide for use within Autodesk's AutoCAD®, AutoCAD® Civil 3D®, and AutoCAD® Map 3D software. As an application developer for more than 20 years, Art maintains advanced technical knowledge in Autodesk software.
Support Information
Email us at app.support@art-cad.gr with feedback or requests for enhancements. In case of problems please provide the application plugin name or command name and a detailed description of the error that occurred. We will reply to you as soon as possible and determine a solution to the issue.
| | |
| --- | --- |
| Version Number | Version Description |
| 1.0 | Original release |